REINVENTING EVENT MEDICINE
Delivering
PROFESSIONAL

,

PREPARED

,

PHYSICIAN-LED

medical operations for the dynamic needs of the events industry.
VETTED
Stringent hiring process including oral interviews, background checks, and clinical examinations to test applicants' knowledge and preparedness to professionally handle on-site emergencies
SHARP
Providers proudly follow a uniform policy that nurtures a professional culture, clearly communicating that you and your patrons are in good hands
COVERED
Providers are properly classified as employees (not independent contractors subject to substantial risk), being fully protected by our $8 Million General Liability, Workers Compensation, and Comprehensive Medical Malpractice Insurance Policies
TRAINED
Providers begin employment on a probationary status & receive on-the-job training to ensure they can effectively operate independently at events, as well as continuing education, allowing and promoting improvement in the clinical and operational competencies EMS providers are required to annually acquire
DEDICATED
Give back to employees, including industry- leading wages, advancement, benefits, training, and perks
BATTLE TESTED
Staffed at a minimum of a paramedic level, all recruited from 911 agencies
CONFIDENTIAL
Technology and policies employed to safeguard patrons' healthcare information
ACCOUNTABLE
GPS-equipped time clock system ensures accurate and transparent personnel management and billing
CUSTOMER SERVICE
Culture that surrounds clinical readiness and customer service, recruiting providers that embody selflessness, respect, and kindness, with a zero-tolerance policy for unprofessionalism and disrespect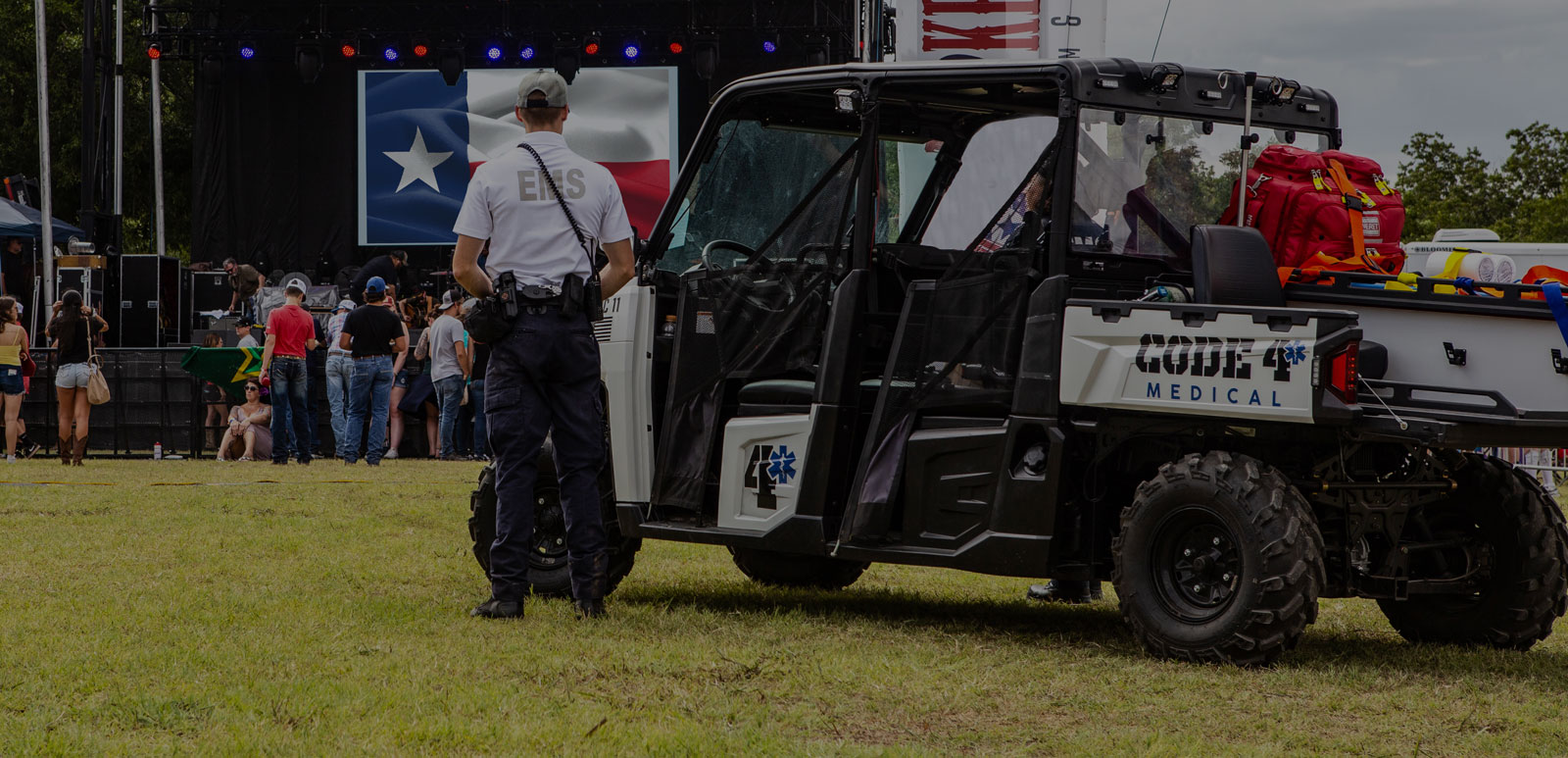 BRIEFED
Providers never fly blind, with an event and venue advance process that ensures we hit the ground running, briefed and prepared to integrate into event and venue- specific operations
PATIENT ACCESS
Utilize purpose-built equipment designed to access patients in the unique event environment, including specially equipped 4x4 UTVs, watercraft, and bicycles with patient transport and rescue capabilities
MEDICATIONS
Equipped with a broad spectrum of advanced medications, including advanced cardiac life support and controlled substances, allowing medics to administer on-scene care with enhanced life-saving capabilities
EXPERTS
Led by industry- expert public safety managers, versed in all aspects of event and venue operations, resulting in comprehensive planning and smooth integration into your team.
EQUIPPED
Advanced cardiac monitoring, including 4-lead and 12-lead diagnostics and Advanced Cardiovascular Life Support; controlled substances; advanced diagnostic equipment including Carbon Monoxide detection, ETCO2, ultrasound, and breathalyzers; advanced airway devices including CPAP, intubation kits; obstetrical kits; mass casualty deployment bags; electronic patient care reporting; ultrasound; and 24/7 digital teleconference line with our Medical Director and Physician Advisors
EVIDENCE-BASED
Developed progressive, evidence-based protocols with the support of our board-certified emergency medicine physicians, in order for our medical personnel to deliver basic and advanced life-saving interventions with proficiency and confidence
SUPPORTED
Medical personnel backed by a team of hands-on, expert emergency room physicians (both on-site and online via video conference), which dramatically improves the level of patient care provided and increases the continuity of care, should the patient need to be transported to a hospital
ENGAGED
Hands-on physicians attract clinicians with a passion for progressive medicine
Interested in working with us?
Click the link below for employment opportunities.
IT'S TIME YOU START ASKING QUESTIONS ABOUT YOUR CURRENT MEDICAL VENDOR.
LET'S CONNECT.
WE SPEAK YOUR LANGUAGE.